Meeting Your Event Needs
Beer & Wine, Champagne, Cocktails, Non-Alcoholic Drinks, and Cold Brew Coffee
Tap Truck provides cocktail and beverage catering all across California, serving any craft beer, wine, cocktail or non alcoholic beverage straight from one of our vintage trucks! Our mobile bar is perfect for any special event like weddings, private events, corporate events, beer festivals, tailgate parties and more! Wether you have 25 or 5,000 guests, we are here to serve YOU so you can spend time enjoying your friends and family.
Choose from our hand picked selection of craft beer, hard cider, wine, spirits, and other beverages and allow us to create a customized cocktail menu to take your event to the next level. We even offer personal bartending staff to take care of you and your guests so you can focus on the important things. We take pride in supporting local, hand-crafted American spirits from your nearest microbrewery, distillery, or vineyard and offer an aray of non alcoholic beverages to fit any event. Contact us today and book your very own Tap Truck!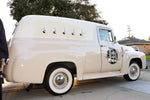 Ready For Your Next Event?
Our beautiful 1956 vintage panel truck was designed for events of all sizes. With 5 taps that can dispense beer, wine, cocktails and so much more, our bartenders are ready to serve all events tailored to your needs. Servicing the entire San Gabriel Valley, from Pasadena to Claremont, we are ready to help take your event to the next level.
Find Out More